Seneca Radiant Technology | Products
Thermal Mass Panel

(
click here to see product details
)

Top
                     
Bottom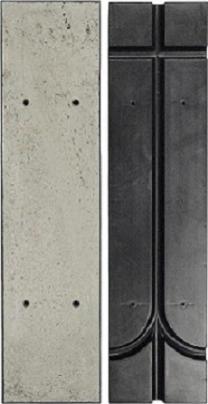 New! Rubber Panel

(
click here to see product details
)

Top
                       
Bottom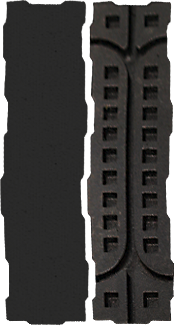 More Information on our Rubber Panels: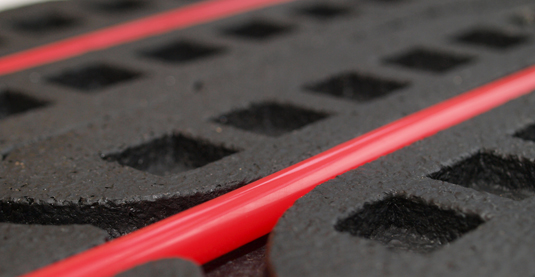 This product is a Seneca Radiant Heat panel designed to be installed over existing concrete slab on grade or suspended high rise slab.  The panel is made from 100% recycled tire rubber crumb.  Individual panels are ¾ inches thick and weigh less than four pounds each.
The rubber modular panel is one square foot in dimension with an engineered tube routing channel in the underside to house the radiant tube.  An attachment system which is incorporated into panel design allows for ease of connection for each individual panel and the modular system as a whole, creating an overall heating system characterized by an ease of installation and adaptability.
1.     Easy to install:
Can be installed over existing concrete with out mechanical attachment
Lightweight design for over existing structural framing in residential homes
Installs without chemical adhesive (glue)
Can be installed in new or existing dwellings.
2.     Environmental Friendly:
Reduces energy consumption by over 50%
A new product that uses 2 waste stream materials and
a.   Uses recycled tire rubber
b.   Used recycled cullet glass
Saves landfill space; every 3 panels produced saves 1 tire from entering a landfill!
3.  Benefits of our radiant heating panel:
Improves indoor air quality compared to forced hot air
Eliminates maintenance cleaning of duct
Reduces sound transmission and noise
Anti slip
Anti fatigue
Ergonomic
4.     Job Creation:
Creates jobs in recycling
Creates jobs in product manufacturing
Creates jobs in design and layout for appropriate installation
Creates jobs with installation crews on construction sites
Market Analysis:
In general it is the intention of the company to target markets as follows across the organizations defined geographic area for market emphasis.
1.  Contractors:
New builds
Remodeling to existing structures
Heating, Ventilation and Air Conditioning (HVAC)
Plumbing
Restoration Specialists
2.  Residential Home Owners:
New builds
Remodeling to existing homes (cellars and basements)
Additions, including sun room and solariums.
3.  Commercial:
Commercial, office and retail
Indoor and Outdoor turf industry
Daycare facilities
Senior group housing
Colleges and universities
Outdoor Landscape – Parks n Rec & Playgrounds
Government (Federal, State, Municipal)
Request a Project Estimate